San Francisco is a city of hills. In fact, it's considered one of the hilliest cities in the world, second only to La Paz, Bolivia. And San Franciscans are proud of it. As Pulitzer Prize-winning San Francisco Chronicle columnist Herb Caen once wrote, "Take anything from us — our cable cars, our bridges, even our Bay — but leave us our hills."
The
hills in San Francisco
define the many distinct neighborhoods in the city and are partially responsible for the fog patterns that contribute to
San Francisco's varied microclimates
. But how many hills the city has, which hill is the steepest and which is the most famous hill defy easy definition. Whether you're a resident looking for the least hilly neighborhood to live in or a visitor asking why San Francisco was built on hills, we're answering all of your "steepest" questions.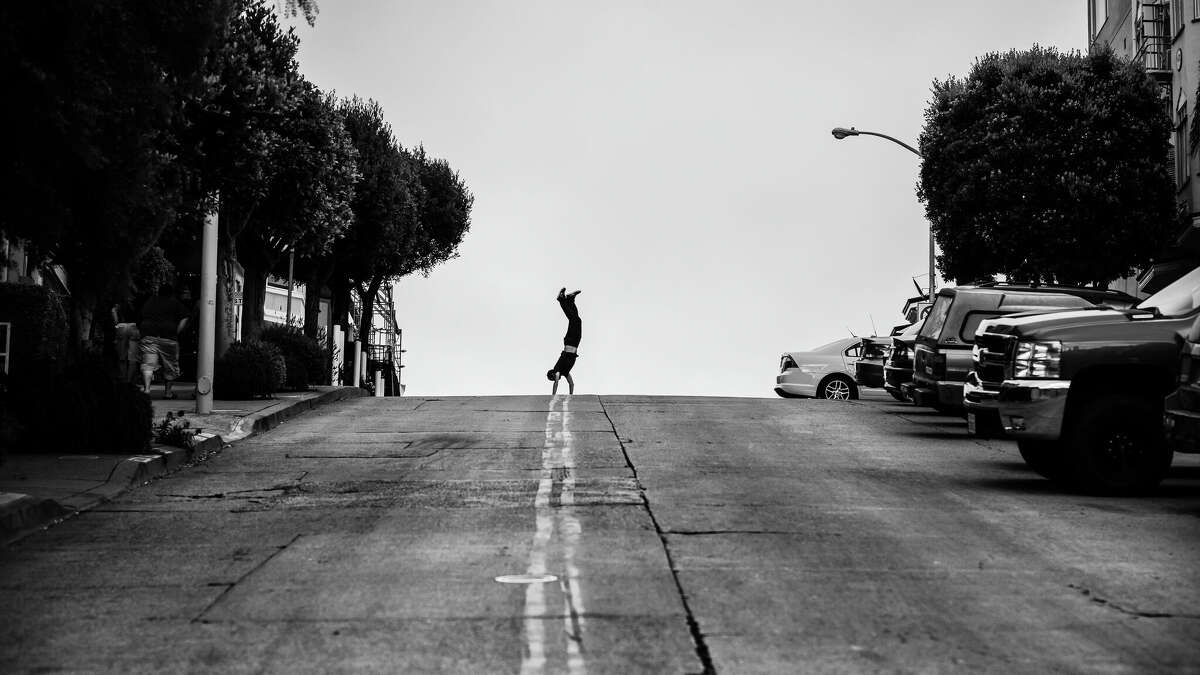 A man does a handstand on a hill in San Francisco.Yanis Ourabah/Getty Images
Why is San Francisco full of hills?
Our beloved hills
were created
by tectonic activity known as subduction, in which the oceanic plate slid under the continental plate, pushing earth upwards and ultimately forming the hills of San Francisco and the East Bay.
You might wonder why San Francisco would be built in an area that is so hilly — it certainly seems easier to build a major port city on flatter land. That has to do with the Gold Rush when "
forty-niners
" flooded the area, increasing a nascent San Francisco's population from
1,000 to 25,000
in just one year, 1849. The city's property owners made the choice to
grow rapidly over the steep terrain
rather than take the time to install gentle curves. Soon, cable cars allowed for the city to expand further across its steepest hills, and the rest is history.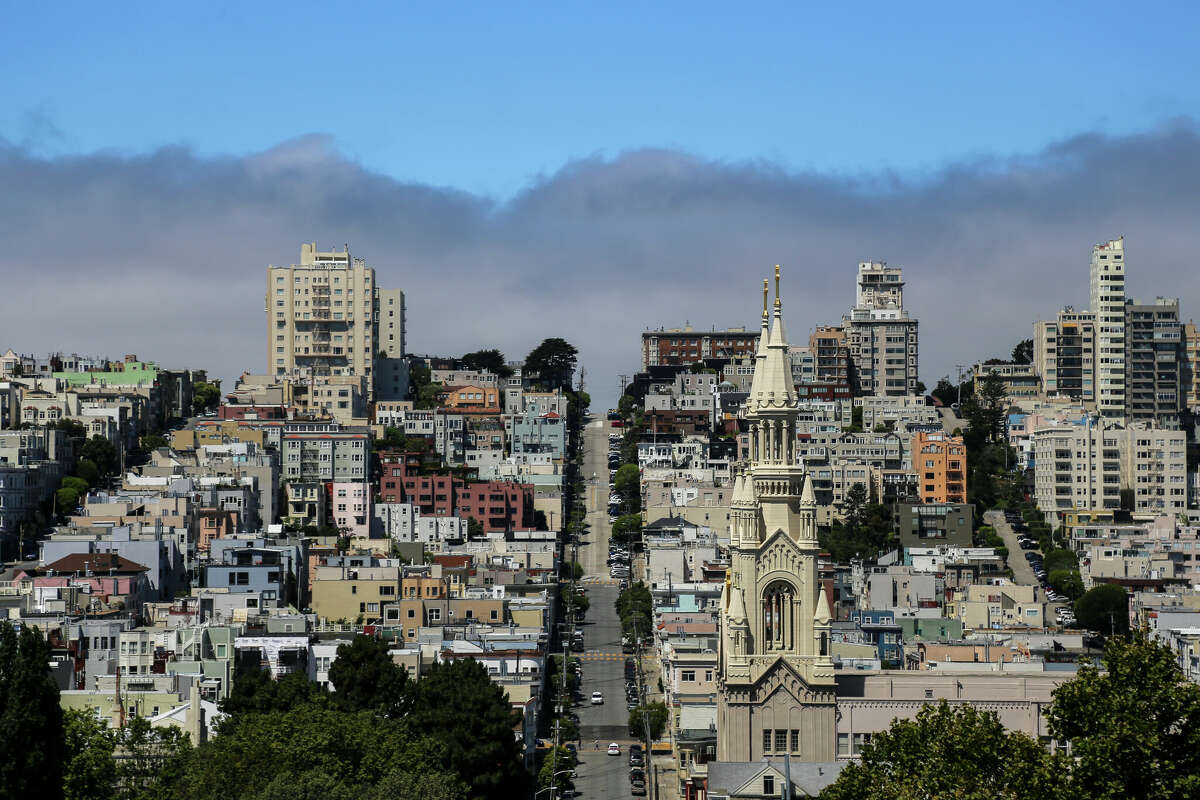 Looking out at some of San Francisco's hills from Filbert Street.Andriy Prokopenko/Getty Images
How many hills are in San Francisco?
It's hard to pinpoint the exact number of hills in San Francisco; it all depends on how you define a hill and if having a name is a requirement for the hill to be "official." In 1958, the San Francisco Chronicle
published a series of articles
on the hills of San Francisco; a year later, in 1959, Chronicle Publishing pulled them together in a book,
"Hills of San Francisco"
(of course Herb Caen just had to write the foreword). The series of articles, and subsequent book, included 42 hills — 43 if you count Twin Peaks twice. In 2004, a SFGATE writer attempted to walk every hill in San Francisco. He claims
there are 53 hills
. And software engineer and self-proclaimed SF explorer Dave Schweisguth says there are no less than 74 hills, 63 of which have official names and are listed on his site
SFGazetteer
.
San Francisco is also sometimes called the "City of Seven Hills," but that's more a nod to the city's origins and the region's tallest peaks than geological fact. Even lists of the original seven differ. Most lists include
Telegraph Hill
,
Nob Hill
and
Russian Hill
, peaks in San Francisco's oldest neighborhoods, as well as SF's tallest hills:
Mount Davidson
, Twin Peaks and
Mount Sutro
. The seventh varies and is usually a matter of editorial discretion.
What is the steepest hill in San Francisco?
Filbert Street, specifically between Hyde and Leavenworth, is often considered the steepest in the city, with a grade of
just over 31%
. David Letterman once
released 100 watermelons
down the block during his late night show, thus increasing the hill's notoriety and further cementing its title. But Filbert Street is actually only the sixth steepest street in the city limits. The actual steepest street in San Francisco is
Bradford Street
, specifically the portion just above Tompkins, in the Bernal Heights neighborhood.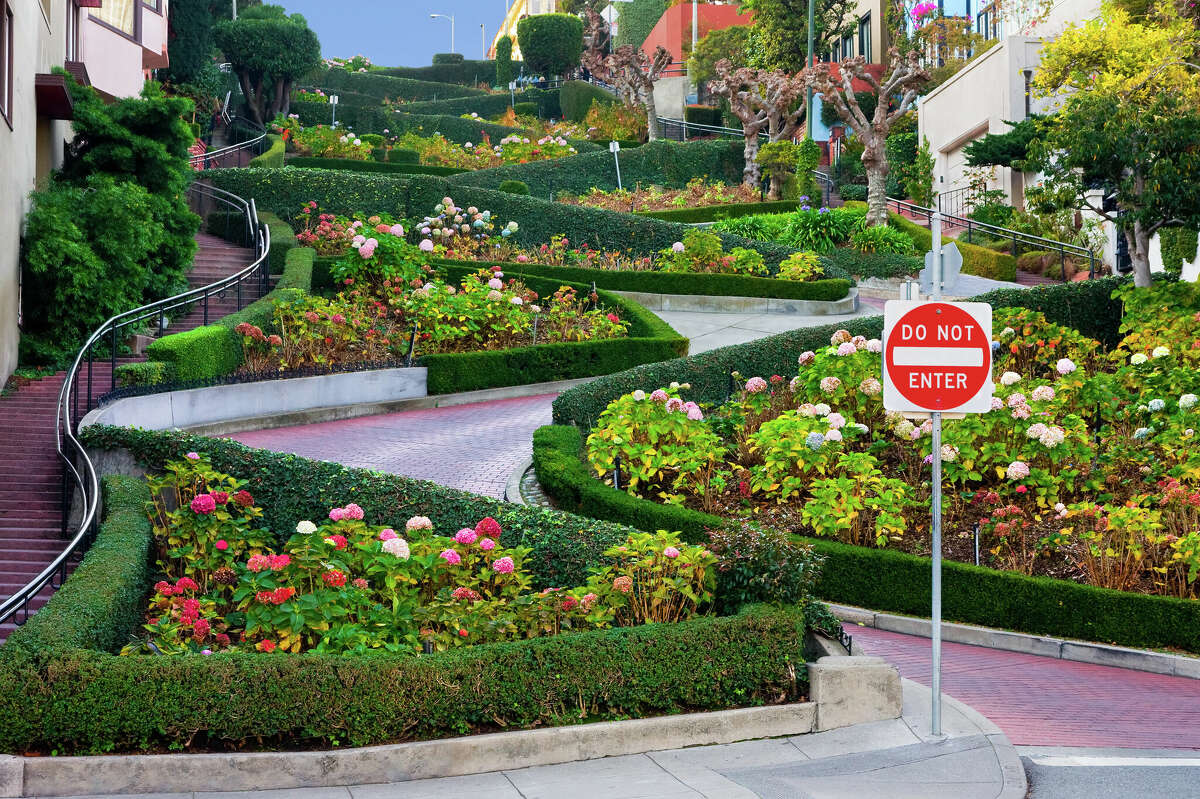 Lombard Street, arguably one of San Francisco's most famous streets
What is the most famous hill in San Francisco?
Pinpointing San Francisco's most famous hill is even harder than getting to a complete list of the city's peaks.
Lombard Street
is arguably the most famous, given its switchbacks and postcard views that
draw tourists
from around the world. But despite its moniker as the
crookedest street in the world
, Lombard is not even the most crooked street in San Francisco. The real crooked winner is actually
Vermont Street
in Potrero Hill, which has more stomach-dropping turns and far fewer tourists.
There are several other famous hills that define San Francisco topography and culture.
Telegraph Hill
hosts Coit Tower, an iconic piece of architecture that resembles a fire hose and affords incredible views of the city; its walls are also home to
historic artwork
. Twin Peaks is a main landmark of San Francisco's skyline. And Mount Davidson is the city's tallest hill, defined by a 100-foot cross on its peak.
Nob Hill, Russian Hill and Telegraph Hill were sites of early San Francisco history and remain among the most popular neighborhoods to visit. But don't forget about
Hippie Hill
, which got its name during the
Summer of Love
when it became a main hangout for psychedelic experimentation, peaceful protest and (
nude
) dancing. It is still considered one of the centers of SF's historic counterculture movement. To this day, it draws crowds for the annual
420 cannabis celebration
.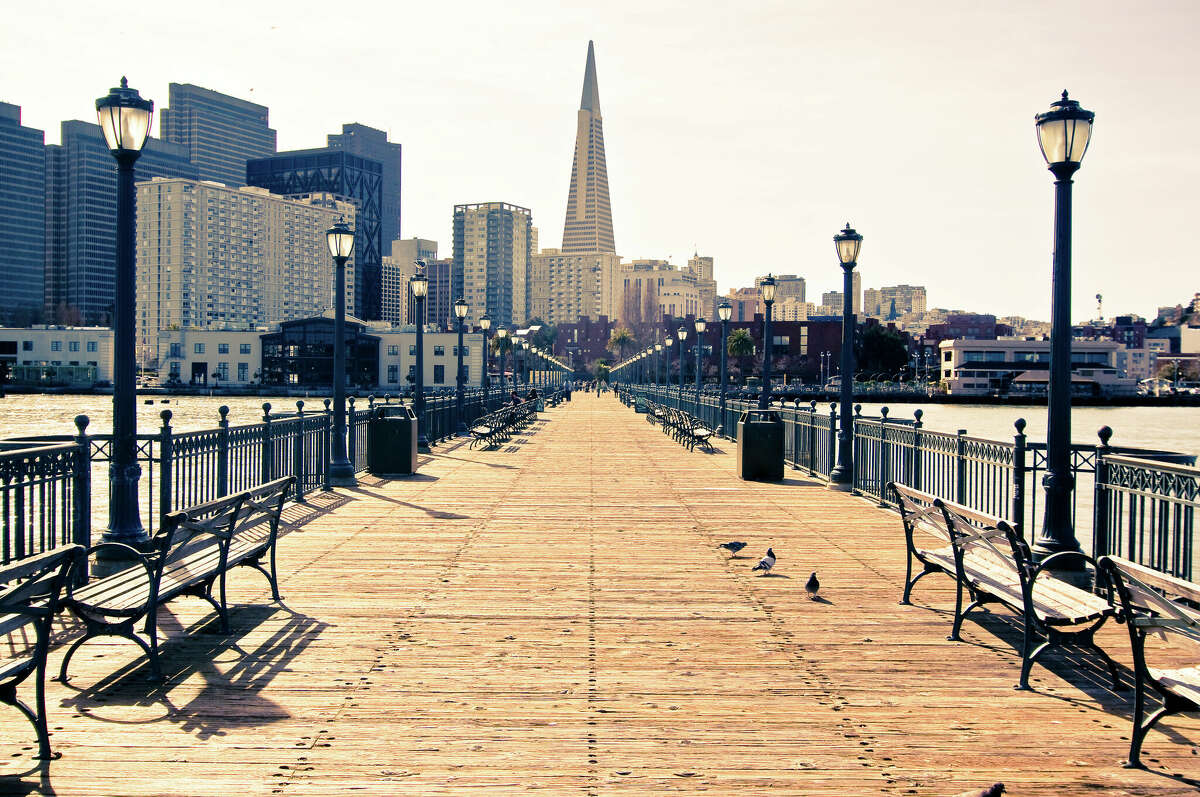 One of the flattest places in the city: the Embarcadero in San Francisco, Calif.
What are the least hilly neighborhoods to live in San Fransicso?
With dozens of hills across the city, you might think every neighborhood would have calf-busting slopes, but flat neighborhoods do exist. The Sunset,
the Richmond
, and
the Mission
districts are arguably the most popular of the least hilly neighborhoods to live in, while
the Embarcadero
and semi-industrial
Dogpatch
and
Bayview
neighborhoods also boast large stretches of flat areas.
An interactive map
created by a UC Berkeley grad student studying urban planning maps SF's slopes and uses simple color coding to show where the flattest pockets of land are. So go ahead and plan your walking and apartment-hunting routes.
Editor's note: A previous version of this story cited an incorrect fact about the city's steep terrain. The article has been updated to reflect the correct information.
This story was edited by Hearst National Editor Kristina Moy; you can contact her at
[email protected]
.